The Resto Hoppers are engaged! Would you expect anything less than an epic weekend of eating out to celebrate? I didn't think so….
I'm tipping my hat to Eric for planning every single detail and making sure that every meal was memorable and amazing.
The Night: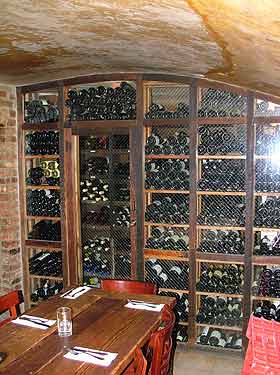 Blue Ribbon Bakery
– If you are ever looking to celebrate a special occasion, go to the private wine cellar room at Blue Ribbon Bakery! It's an intimate room across from their bread-making area and the service was fabulous. We started with some drinks and the cheese platter, some beef marrow with red wine sauce, garlic shrimp and chorizo. Everything was great, but I was too distracted and excited to recall the details.
For entrees, I split the salmon with asparagus, potatoes and mustard sauce and the tuna...both were good but you need to go with meat here. Most others went with the fried chicken or the filet mignon and we got some sides of the brussel sprouts & parmesan and roasted garlic, both were great.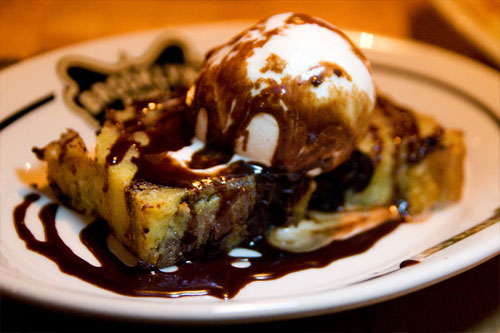 For dessert, we had to go with the bread pudding, which we discovered at Brooklyn Bowl and which is AH-MAZING. As the waiter said, they may lace it with crack...it's that addicting.
The Day After:Jane
- We went around the corner for brunch at Jane, a regular in our rotation but one that can always be counted on to deliver. I'm a huge fan of places that steam their milk for coffee...a classy move. I went with the mushroom omelet and Eric went with the hash....both were heaping portions and were a great chaser to an amazing evening.
WD~50
- When we needed a really special meal to celebrate just the two of us, we knew it was going to be wd~50, a spot that has long been on our "special occasion" list.
We walk in and who do we see in the kitchen but Wylie Dufresne himself? We knew it would be fantastic from that point on....
We started off with the "Eggs Benedict," the Peekytoe crab roll with salt 'n vinegar chips & celery mayonnaise and the Shrimp spaghetti with tomato, basil & garlic. The "eggs benedict" consisted of breaded cubes of hollendaise sauce, jello-like molds of egg yolk and bacon chips. Let us just say it was out of this world...as you can see from this shot of Eric's face after taking a bite.
It's Wylie's way of playing with ideas that make his dishes so special. The Eggs Benedict was fun to eat and each bite was just bursting with flavor.
The shrimp spaghetti was another culinary feat - the spaghetti strands were made of shrimp and tossed with shrimp in a tomato sauce, so you were getting lots of shrimp flavor in every bite. I was worred that the texture might be off, since shrimp can be stringy, but it was perfect.
The crab roll was excellent as well, although not as memorable as the first two.
As entrees, we went with the Mediterranean bass with artichokes, forbidden rice & white chocolate-green olive and the Lamb skirt steak with pistachio 'polenta,' endive marmalade & spiced apricot.
The bass was beautiful and cooked perfectly and the "forbidden rice" was in the form of crispy brown rice balls that really balanced out the lightness of the fish.
As for dessert....we passed. However, we did receive a parting gift complements of the restaurant: balls of marshmallow ice cream dipped in rice krispies and frozen for a perfect ending bite.
We were so impressed that we asked our waiter to get us into the kitchen to thank WD himself, and we were brought back a few minutes later. We got a quick tour of the kitchen and shook hands with the chef who blew our minds with a meal we won't forget. And he even congratulated us! Never washing our hands again....
Peels -
To cap off the weekend, we joined forces with the parentals for brunch at Peels. Owned by the Freemans folks, this spot is ALWAYS crowded with hipsters on the weekends, so make reservations or be prepared to wait!
We started off with some bloody mary's and the pastry basket, which contained some nice goodies for the table - banana bread, pistachio bread, a chocolate chip loaf and lots more! I went with the Flower Power sandwhich:

Hummus, spiced cabbage slaw, feta cheese & black olives.
Eric got the build-a-biscuit with avocado, cheddar and bacon...can't go wrong. The brunch menu is really large and has options for any set of taste buds - we'll definitely be back soon!