A long-overdue trip to ABC Kitchen was in store for us over Labor Day weekend – hard to get into since it hit the scene last year, it took a while for us to plan ahead far enough to get a weekend reservation at this local, organic food hotspot.
I was recently reading an article about how 9/11 changed the landscape of New York City restaurants – places with grand, museum-like designs, dim lighting, club music and menus with fancy-shmancy ingredients and delicacies have had their heyday. In the face of a major catastrophe (and an economic downturn), NYC has become a place where low-key, casual and good-for-you dining is where it's at. 'Organic,' 'self-sustaining,' 'locally-grown'….these are words you hear quite often. And ABC Kitchen is at the heart of this trend, for a good reason. Hey, if Jean-Georges is behind something, it's usually good.

The design is completely cozy: lots of wood, soft lighting, a casual and warm almost barn-like feel. And adding to the barn-like feel is the fact that this place is big on vegetables and does them right. You can have a meat-free meal and be completely satisfied – veggies are definitely the star.

We took a sharing approach and got a bunch of appetizers – no entrees – which was a great way to go.

Roasted beets with housemade yogurt: these were great and if you're a beet-lover, give these a try. The yogurt adds tanginess without too much flavor to take away from the freshness of the beets.

Crab toast with lemon aioli: extra crispy toast smothered with a crab salad. A tad on the oily side, but quiet delicious because of it.
Roast carrot and avocado salad, crunchy seeds, sour cream and citrus: By far the best dish of the evening – what seems to be a simple salad is bursting with flavor. The roasted carrots are the star and are perfectly complimented by the creaminess of the fresh avocado and sour cream, and contrasted nicely by the citrus dressing and crunchy seeds. Mmmmmm.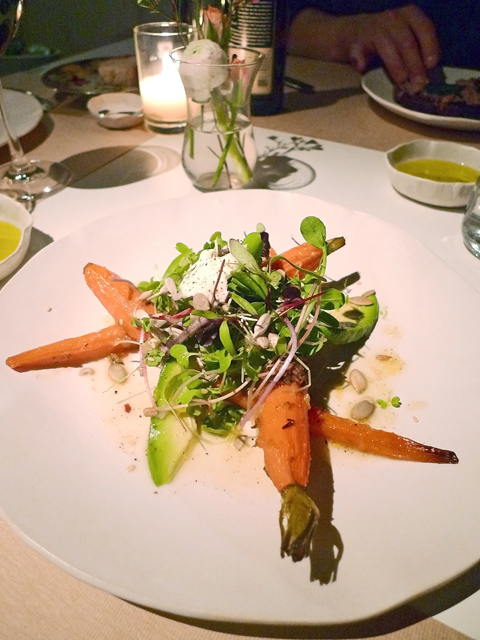 Pretzel-dusted calamari, marinara and mustard aioli: Good, but nothing to write home about. The mustard aioli was the best part of this dish, since we didn't taste any pretzel flavor in the calamari crust.

Whole wheat pizza with spicy cacciatorini meatballs, habanero tomato sauce and ricotta: a nice, spicy pizza with fresh ingredients.

All in all, the ABC Kitchen experience is among the best – both from an atmosphere perspective and the quality of the food is top-notch. Go for the vegetables and soak up the pretty atmosphere and lighting (thanks to ABC Home, which is connected through the back of the restaurant) - and just kick back and enjoy.